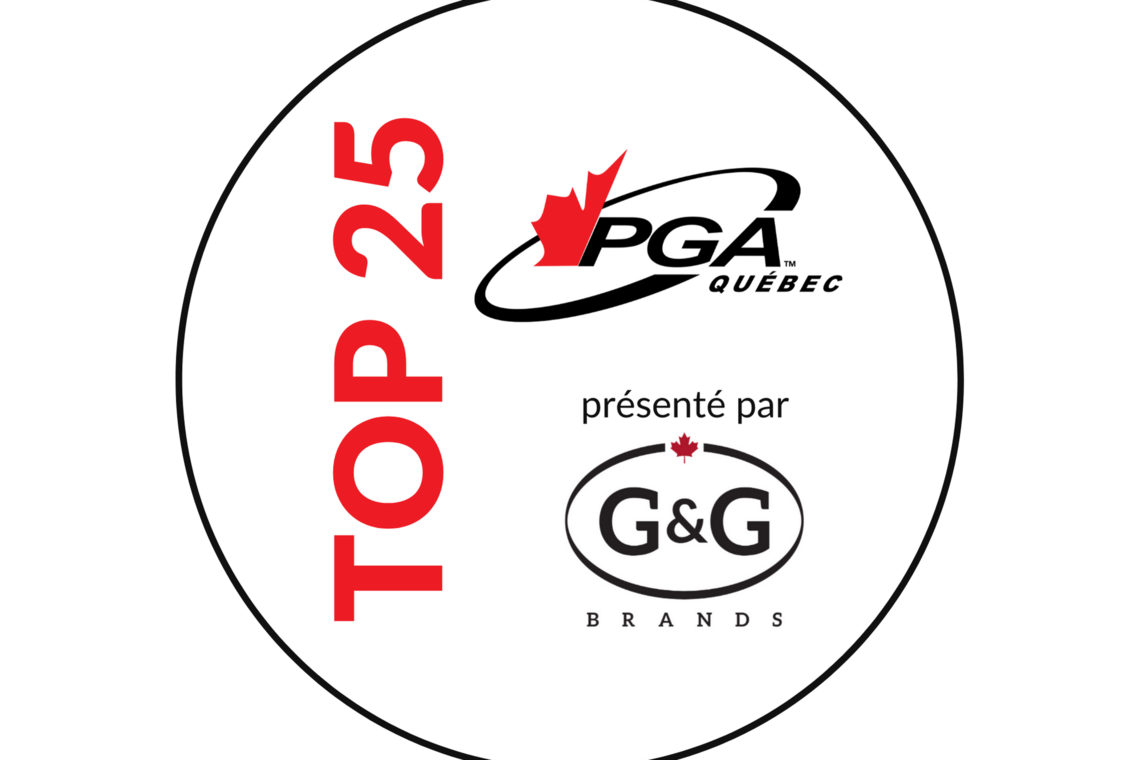 THE PGA OF QUEBEC UNVEILS ITS TOP 25 2021 PRESENTED BY G&G BRANDS
Montreal, Quebec (November 3, 2021) - The PGA of Quebec is proud to announce the 2021 edition of the TOP 25 presented by G&G Brands. This recognition program recognizes PGA members for their professional development.
Twenty-five PGA Professionals have distinguished themselves in the first year of the program and have been awarded points for their involvement in their career development and in the improvement of their knowledge and skills. Running from January 1, 2021 to September 30, 2021, this TOP 25 season recognized the tireless work of Quebec professionals.
"The first year of our TOP 25 program presented by G&G Brands was a great success. The Quebec professionals have demonstrated, over the past year, their dedication to their profession and their desire to always improve. Year two of the program is looking good. A big thank you to G&G Brands for supporting this program and we look forward to year two," said Dominic Racine, Executive Director of the PGA of Quebec.
Anne Rogerson

(Hillsdale)

Alexandre Ouellette

(Blainvillier)

Claude Gamache

(Drummondville)

Chrisitan Manège

(Vallée du Richelieu)

Dennis Firth

(Royal Montreal)

Jonathan Lambert

(St-Prime)

Steve Deschênes

(Summerlea)

Philippe Morency

(Montcalm)

Sarah-Andréa Landy

(Pinegrove)

Marc-André Ménard

(Génération Golf)

Éric Laporte

(Montcalm)

Louis Bourgeois

(Blainvillier)

Debbie Savoy-Morel

(Le Mirage)

Sylvain Gaudet

(Montcalm)

Marie-Pierre Bernier

(La Tempête)

Louis-Alexandre Pitre

(Pinegrove)

Rémi Bouchard

(Laval-sur-le-Lac)

James Colin Davis

(Windmill Heights)

Constant Priondolo

(Laval-sur-le-Lac)

Simon Millette

(Laval-sur-le-Lac)

Denise Lavigne

(Pinegrove)

Yohann Benson

(Le Mirage)

Steven Brosseau

(Laval-sur-le-Lac)

Carl Anctil

(Les Cèdres)

Marc-Antoine Lamoureux

(St-Hyacinthe)