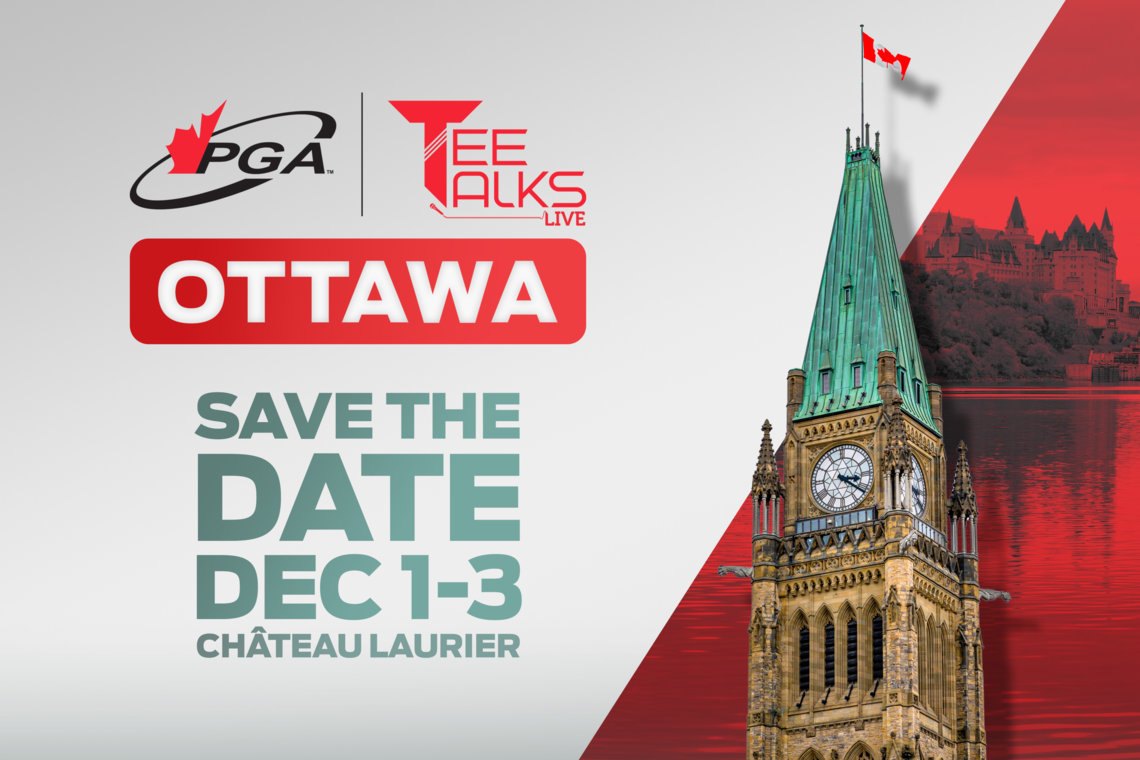 Save the Date!! Tee Talks Live is Heading to Ottawa Dec 1-3
The PGA of Canada's flagship event is heading to the nation's capital! Tee Talks Live page on PGAofCanada.com. We are looking forward to announcing an exciting new lineup of keynote speakers and breakout session leaders, which will include renowned industry professionals, executive leaders, marketing and sales experts and more. No matter what your role is in the golf industry or your specialization, it is our promise to bring you beneficial learnings that will help you day-in and day-out. "We couldn't be more excited for this upcoming year's Tee Talks Live National Conference," said PGA of Canada CEO Kevin Thistle. "2022's event in Vancouver was a resounding success, and we have taken participant feedback into consideration as we look to deliver the content our members want to see."
It is with great enthusiasm that we announce the date and location for the 2023 edition of Tee Talks Live as we open registration to our membership. We have secured an IMMACULATE venue for this year's event. The Fairmont Chateau Laurier, in beautiful Ottawa, Ontario, will play host from December 1-3, 2023. Chateau Laurier is one of Canada's most sought after hotels. We encourage you to register early as we are thrilled to have secured a special PGA of Canada member rate of $229, available until June 1, half the cost of the regular rate at Chateau Laurier ($450). After June 1, the PGA of Canada member rate increases to $259, still an incredible discount for the spectacular venue. The booking link will be available soon and can be found on the
Tee Talks Live is a premier conference that brings PGA of Canada members and thought leaders together to discuss the latest trends, innovations, and ideas that are beneficial to your professional development. In addition to both golf and non-golf speakers, we also give our members the floor to share their realities and successes. To register, click here. TaylorMade is committed to the professional development of PGA of Canada members, and are once again giving away a free ticket and $1000 travel bursary EACH MONTH to a member. Have you taken advantage of the Tee Talks Professional Development Platform presented by TaylorMade on the PGA of Canada website? Reply to this email with what you've learned from the platform, or what piece of material you have read or viewed in the past month for your chance to win!
For more information, please contact Matt Allen, PGA of Canada Chief Innovation Officer at "Tee Talks Live is so much more than a regular professional development conference," said PGA of Canada Chief Innovation Officer Matt Allen. "The priority for us is to provide social and networking events throughout the three days that gives our professionals the opportunity to get together face-to-face, network and have a fantastic time while also learning from world-renowned speakers." Early Bird pricing will be available until October 1st at $429 for Class "A" professionals, $329 for Apprentices, and $499 for non members.
matt@pgaofcanada.com
.