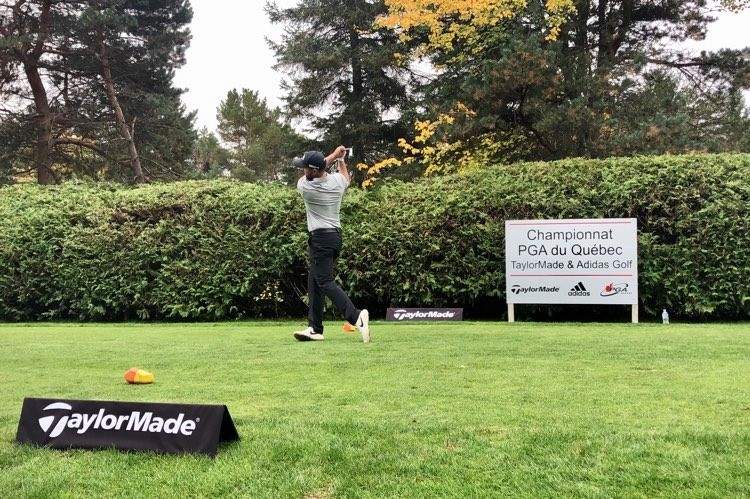 TRIPLE TIE AT THE TOP AFTER THE FIRST ROUND
The PGA of Quebec's pros were in action at Club de Golf Montcalm for the PGA of Quebec's Taylormade and adidas golf Championship. Daniel Santerre won the super senior category (60 years old and over) with a score of 68 (-4).
The 6530 yards' course allowed the Quebec's pros to shine on the humid and cloudy day. Denis Girard (L'Épiphanie), Philippe Morency (Montcalm) and Pierre-Alexandre Bédard (Cap-Rouge) all signed a 67 (-5) card to come out equal at the top, after the first round. A quadruple tie at second (-4) promises an exciting second day at Montcalm.
"I played a really good round of golf today, a 67 (-5). I started with some good iron shots and despite a triple boguey on the fourth hole, I managed to score 8 birdies on the last fourteen holes. […] Tomorrow, I will try to hit the fairways and greens and get the ball as close as the hole as possible to do the putts." said Denis Girard, co-leader after the first round.
Denis Girard took the lead in the head pro division (67) scoring eight birdies. Daniel Santerre is the man to beat in the senior division with a 68, but will be challenged tomorrow by Martin Plante, who is only one shot behind.
The second round will take place, tomorrow, on the 29th, tee times starting at 8:30 AM, at Montcalm Golf Club.

Results: https://www.pgaquebec.com/tournois/les-tournois/championnat-pga-du-quebec-taylormade-et-adidas-golf?cb=1600954314