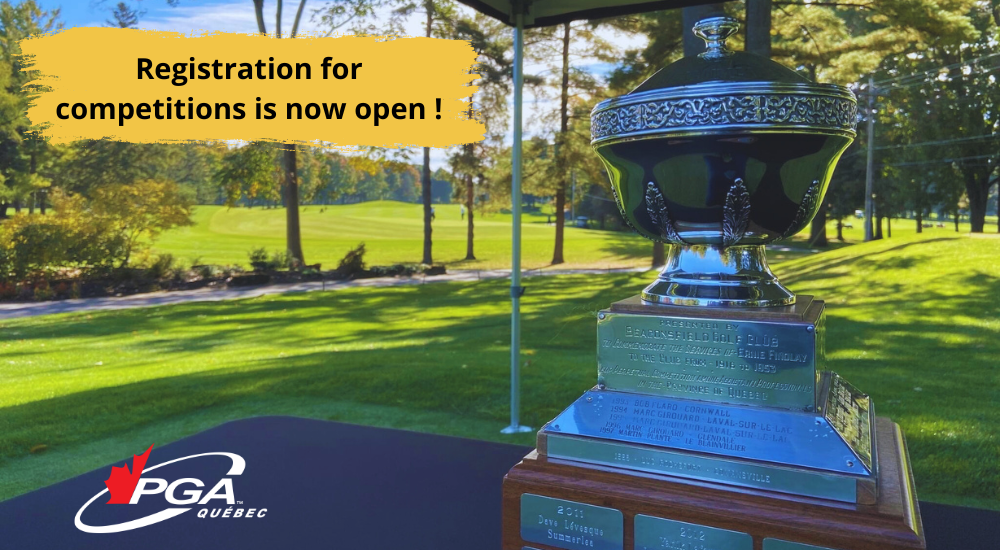 REGISTRATION FOR COMPETITIONS IS NOW OPEN
As announced on April 14th, the PGA of Québec came up with a schedule for 2023 that includes individual, team, pro-am and charity events.
All these competitions are possible thanks to the contribution of our sponsors for this season. We would like to thank them:
OFFICIAL PARTNERS

PARTNERS IN THE INDUSTRY

PRIVILEGED SUPPLIERS
The season will start with a bang with the presentation of the PING Championship and Pro-Am at Joliette Golf Club, on June 19th. Members will be pleased to learn that the winner of this championship will receive an exemption to the prestigious Québec Open to be held at Golf Château Bromont. The tournament will also serve as a qualifier for the Coupe Canada Victoriaville - Fenergic, the biggest event in the province after the Québec Open.
The remaining selection of players for the Coupe Canada Victoriaville - Fenergic will be concluded at the Cobra PUMA Championship and Pro-Am. This individual competition will be held on August 2nd at the Triangle d'Or Golf Club and amateurs are invited to participate in its pro-am.
Between these 2 events, there will be the traditional Pro-Am for Kids to benefit the Canadian Hadassah-Wiso Foundation, on July 6th, at Elm Ridge Golf Club. This will be followed by the Callaway Team Championship and Pro-Am on July 24th, at Knowlton Golf Club. For this event, professionals will be invited to pair up in teams of two and enjoy the impressive views of this Eastern Townships course.
In August, the first event will be the Adidas Women's Golf Pro-Am. This is a special day, where a female or male professional will play with 3 ladies who wish to support women's golf. It allows the PGA of Québec to raise funds that will be distributed in the form of a scholarship to an entity that supports girls/women's golf or scholarships for professional golfers. We look forward to welcoming you to La Tempête Golf Club on August 7th for this great cause.
Afterwards, the PGA of Québec, in collaboration with Golf Québec, will take on a new challenge, as it will be the lead organizing body for the 10th edition of the prestigious Coupe Canada Victoriaville - Fenergic. Like the 9 previous editions, it will be held at Victoriaville Golf Club from August 17th to 20th and all PGA of Canada members will benefit from paying a preferential rate of 50$ less than the pros who are non-members. No less than 50 players from Québec are expected to participate, while 156 players, mostly from Canada, will compete for the victory and the $25,000 check that is given to the winner.
In September, we will enter the final stretch of the season starting with the SFL Wealth Management Championship, presented at Le Versant Golf Club, on September 5th and 6th. In addition to being the only 36 hole event on the calendar, it has a special feature which is, other than the championship itself, there will be a separate competition for head professionals, assistant professionals and seniors. Each of these 3 categories will also have its own purse.
Following this two-day championship, we will head to Mount Bruno Country Club for the finals of the G&G Brands Match play Championship on September 14th. It will be the conclusion of this long competition, since the matches will begin in June and are played throughout the season. From the 64 participants, only the championship 4 semi-finalists and the consolation finalists will be able to enjoy the scenic course that awaits them.
In the next to last competition of the season we will have the professionals and the best amateurs of their club competing for the title of the Cobra PUMA Pro-Champions. This friendly vegas event will be played at the splendid Pinegrove Golf Club on September 26th.
The season will end on October 2th at Whitlock Golf & Country Club for the Accès Physio Ernie Findlay Championship and pro-assistant. This competition, dedicated to apprentice members, now has a team event where a Class A member can play with an apprentice.
Female professionals
The PGA of Québec, is proud to promote the female gender in its association, and all the competitions are no exception to this. Indeed, in each event, women players will play from a distance reduced on average by 10% of the total men's distance. This goes along also for the Coupe Canada Victoriaville - Fenergic event.
Don't forget that we have a competition dedicated to women with the Women's Golf Pro-am!
PRO-AM
You are an amateur golfer*** and you would like to enjoy a VIP day with a PGA of Québec professional? Several opportunities are available to you! Indeed, most events on the PGA of Québec tour have a Pro-Am and you can play alongside the best professionals at some of the most beautiful courses in the province. Listed are all the opportunities available to you:
COMPETITIONS

GOLF CLUB

DATE

PING Championship and Pro-Am

Joliette

June 19

Pro-Am for Children*

Elm Ridge

July 6

Callaway Team Championship and Pro-Am

Knowlton

July 24

Cobra PUMA Championship and Pro-Am

Triangle d'Or

August 2

Adidas Women's Golf Pro-Am**

La Tempête

August 7

SFL Wealth Management Championship and Pro-Am

Versant (Seigneurs)

September 5

*Members must register via the Canadian Hadassah-Wiso website

** Only ladies can register for this and you must be 3 female golfers with a professional. If you are looking for a professional, contact the PGA of Québec.

***Don't hesitate to write to eric@pgaquebec.com if you would like to play in one of these Pro-Am's.
Finally, for any event a professional plays on the PGA of Québec, he or she will earn points on the SFL Wealth Management Order of merit and for the PGA of Québec Top25.
Wishing you great golf and looking forward to seeing you all soon.
Eric Couture
Executive Director, PGA of Québec
514-252-3348